REACTION INJECTION MOULDING (RIM MOULDING)
Two liquid components, isocyanate and polyol, react to form RIM when injected into a closed mould at low pressure. As these components mix together flowing into the mould, they maintain a low viscosity. The ensuing reaction elevates the temperature and pressure at the tool's surface, thereby creating the polyurethane part within the tool cavity.
Polyurethane resins for Reaction Injection Moulding have grown into a broad range of formulations with particular physical properties for specific performance requirements. Rapitypes can produce virtually anything from flexible elastomer substitutes, to foam-core parts to extremely rigid, solid and thin-walled components.
Parts can be supplied primed, painted or surface treatedwith graphics to simulate various textures such as carbon fibre. However, our clients are increasingly taking advantage of our in-mould painting capability to get high quality paint finishes which are chemically bonded to the surface of the part.
ROTO RIM MOULDING
Rotational RIM, or 'Roto RIM' is a unique in-house process for the manufacture of hollow or tubular components which compares very favourably with Blow or Rotational Moulding in low-volume production. You can add bosses and brackets to the components without issue, forming them during the RIM rotation process just as you would in Blow or Rotational moulding.
With considered design, multiple Roto RIM parts can be moulded together as a single part and separated into individual components through post machining. As well as small series production, this system can provide prototype components very quickly for design evaluation prior to commissioning full blow moulding or rotational mould tooling for instance. Roto RIM has been successfully used for production HVAC vents on the EWB Rolls Royce Phantom and washer bottle components for similar automotive use.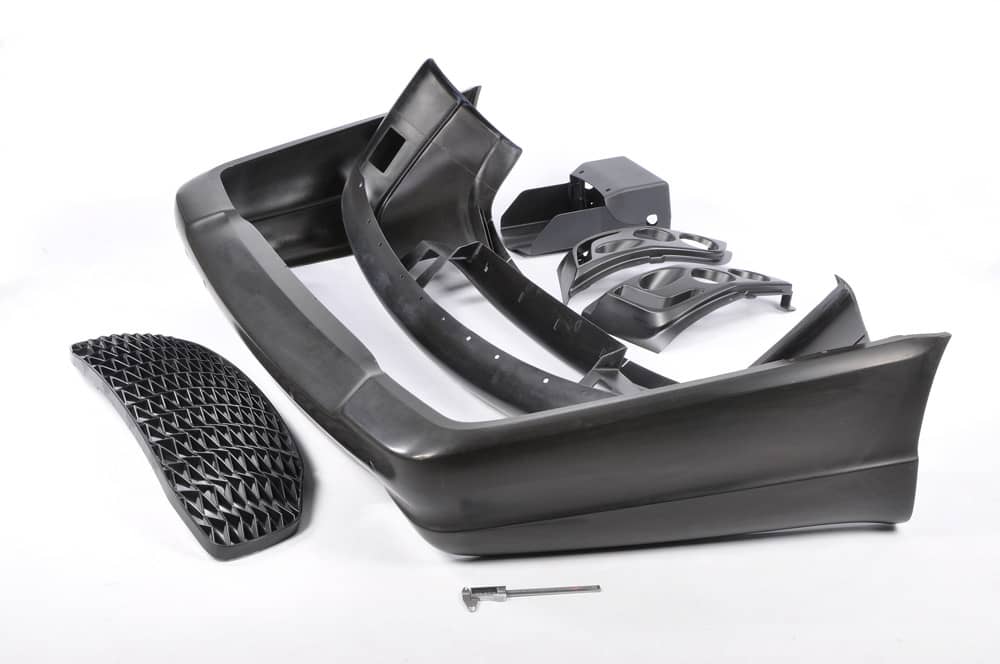 Reaction Injection Moulding (RIM) can provide very large parts such as automotive bumpers, and enclosures for medical equipment for instance. The specification for such enclosures can be especially demanding and so Rapitypes offer special polyurethane RIM formulations to meet UL94 flammability ratings of V-0 and 5VA and resins with elevated temperature resistance (up to 180°C). These give the enclosures the flame resistance demanded of equipment, such as X-ray machines and dental equipment for example.
Low-volume production is a common characteristic of high value medical equipment, such as laboratory diagnostic systems. Stamped-metal enclosures may not be an option due to the high capital investment in tooling and the costs associated with injection mould tools for such large components may also be prohibitive. In these circumstances Rapitypes' polyurethane RIM becomes an attractive alternative with low-cost moulds in Composite GRP, Aluminium and Epoxy resin board.
I am happy to endorse Rapitypes after dimensional inspection of a number of their plastic mouldings. These parts are the most conforming plastic products that I have inspected in my time at QCI Group. Often working with a number of CNC machined aerospace components I can say that I see similar conformance in the mouldings manufactured by Rapitypes"

Matt Hodgkiss – Head of Metrology at QCI Group https://www.qci-group.com
BENEFITS OF REACTION INJECTION MOULDING (RIM MOULDING)
Low-cost tooling for large parts
Polyurethane moulded parts in 2-5 weeks
Thin walled components (1.5mm)
Short lead-times for large components
Low volume production components
Large one off or prototype component manufacture up to 2000mm long
GRP tooling from RP patterns (one off-very low volume)
CNC machined resin board tooling (low-medium production)
Aluminium tooling (High volume production and special finishes)
Low capital investment.
Short or long runs
Minimum set up
Cosmetic surface finishing
Smooth satin/gloss In-mould coating (Avoids additional cost of post
spray painting)
Spray painted splatter or textured finishes
Flame retardant materials (V0)
High Heat deflection materials (180°C)
Rigid foam buoyant water proof materials
Soft foam materials
High impact PP like elastomer
Encapsulation and over-moulding
Hollow components
Roto RIM moulded components
Prototype blow moulded or blow moulded components using Roto RIM